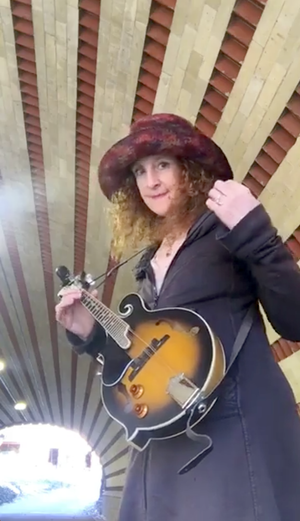 Some of my most wonderful moments last year occurred during my first ever times busking. Right now it's January, and my fingers don't cooperate well when it's cold outside -- & it's not so great for the mandolin either. I've hardly been out to play since the fall and I am missing it, so I'll take the time now to tell you about some of my busking adventures...
Last May, I was feeling such a need to be out playing more and I finally started going to play in the park, as often as possible. I'd always felt some trepidation at the idea of busking -- my music isn't usually very loud (especially when I play solo); so far, I only know how to play a few covers (and not even that many of my own songs) on the mando; my original songs don't quite fall into a mainstream genre.... overall, I was just afraid that busy passersby would not connect with what I have to offer. But now, I just had to get out there somehow. And -- playing in the park turned out to be perfect for my music. I found a few magical spots under a couple of "secret" archways that add a bit of volume & reverb... I do love reverb :)
There have been so many amazing surprises while busking. I have learned more clearly that each day and each "audience" is different and unpredictable, and that you can't always tell at first whether or not people are into the music. They may not even look over when they pass by, but sometimes if you are brave enough to smile and keep playing and look at them, they will turn and smile (passersby can be shy, too). Other times, people give me big smiles right away, thumbs up, come over with coins, bills, or compliments, ask questions, take pictures, or just stop to talk... you just never know what to expect, and I find joy in all of these. Sometimes I get so emotional from people's responses (especially the children), or from the juxtapositions of the meanings of the songs with the people I'm seeing there, that I struggle not to cry and to keep singing... I am learning to allow these emotions, while continuing on in order to give what I have to give.
A few moments from this past year's busking that I will always treasure:
The tiny child, perhaps younger than two years old, who slowly walked up and stood 3 feet away from me, transfixed and staring up, while I played through three whole songs for him (and the parents who waited to allow this, and then thanked me emotionally afterwards).  
The little boy and his mother who sat down on the ground to listen to a whole "set" of 5-6 songs... except for one of them, which got him up twirling and dancing :) 
The young men who tossed in golden dollar coins (and the ones who tossed in paper dollars, too)! 
The girls who danced their way through the tunnel to "Angel Bells". 
The little boy who blew "dust" off the dollar that fell on the ground, before putting it safely into my busking box. 
All of the passers by for whom I could feel that a particular song seemed to give something that they really needed, that day.
The young British man who stood leaning against the opposite arch with shades on, unsmiling, and watching, for a whole song... and then who came over and said it was wonderful and that he was going to put me into the book he was writing! I wonder if he will...
The Japanese woman who stopped and said that she plays mandolin also, and she plays in a mandolin orchestra in Japan... I felt shy to play for her but she seemed to enjoy it.. I hope! 
Sometimes it's just me and the birds and trees... and I love those moments too.
Here's a little bit of "In the Garden" for you -- in my favorite spot :)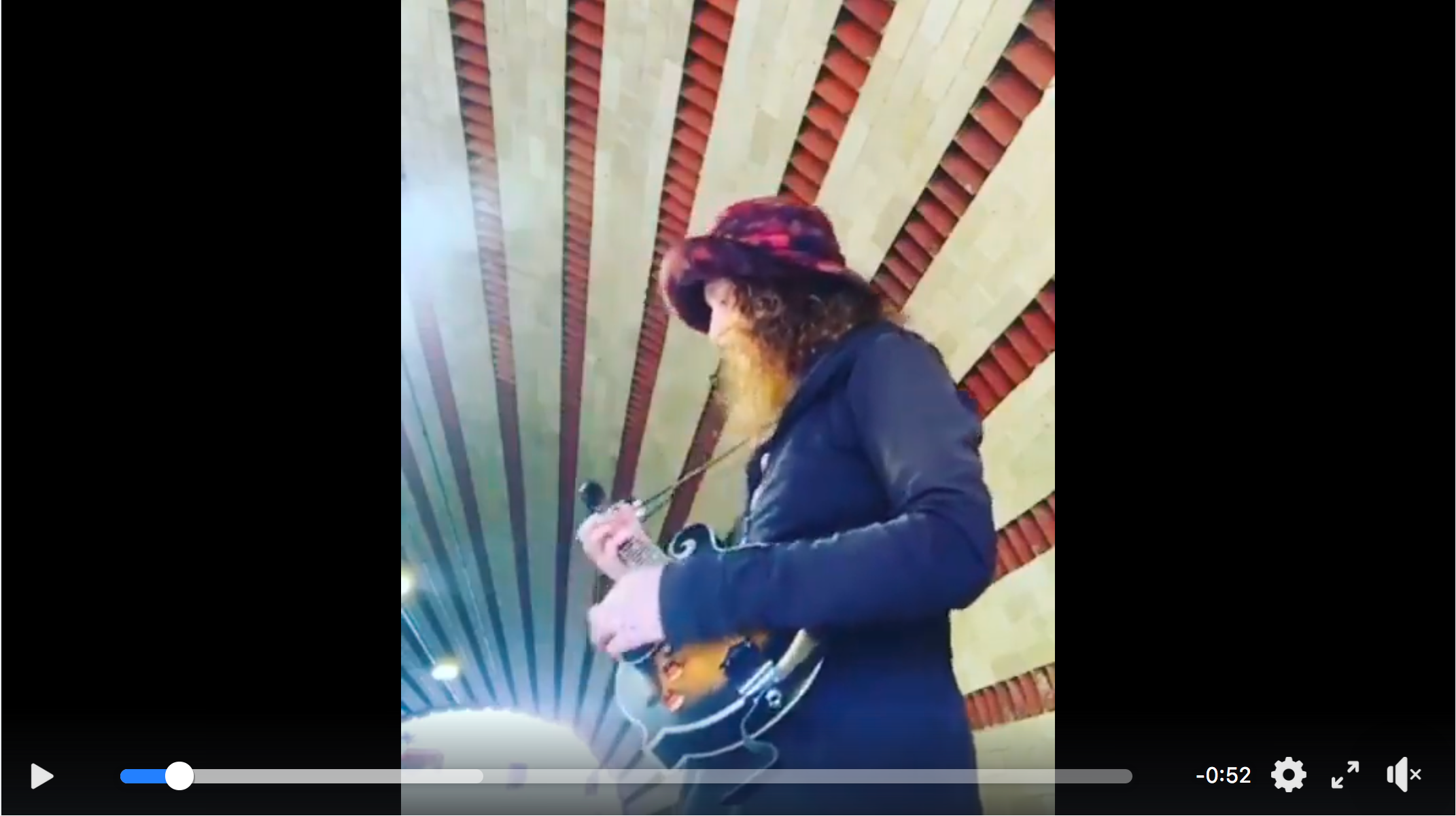 Even though I (so far) haven't been busking in very in-demand areas, I do walk out each time knowing that my spots might be taken, especially during summer weekends. On some days, I still have to make myself go out because I can still feel nervous and/or like I just don't have the energy. But often those days where I feel reluctant at first turn out to be the most wonderful days. It's a profound and magical experience, to feel how music touches people... and I feel so grateful to be able to give this. These moments bring me to the heart of why I'm even creating music... sharing beauty, truth, love... and I get back as much, or maybe more, than whatever I am able to give. Thank you <3 <3 <3